GoGPS K19
$82
Not available
Baby GPS clock K19 with flashlight, touch screen and built-in camera, designed for children secondary school age. Material is shockproof thermoplastic resin plus soft silicone.
Watch can only be called from set numbers, so your child no stranger will not disturb. Child will also be able to call two emergency numbers, such as moms or dads, or 10 numbers from phone book. Also there are three SOS numbers when you press button SOS watch call immediately on all numbers in circle two times until someone will answer phone.
Monitoring function will allow you to listen to what is happening around baby's microphone, but child will not know about it.
GOGPS ME K19-with flashlight, model June 2017 with built-in 2Mp camera and dual-Core CPU Dual Core 1.2 GHz. Work as phone with GPS/LBS positioning function.
Color touch screen LCD screen brightly displays information at any angle! Best in the class battery 400 Mah perfectly lasts up to 24 hours (3 days) in standby mode.
GPS coordinate sensor transmits data to map every 10 minutes, but parent can at any time use simple command to find out location right now.
• GPS/LBS/WI-FI
You are always aware where your child is, you see his location on map.
• Double-sided telephone communication.
You do not worry that your child does not have phone or he did not hear it, watch-phone is always on hand.
• Geo zones (optional)
You can set geographic zones for your child, you will be notified if child has entered or left zone.
• Bluetooth fence (optional).
Turn this function in crowded place, watch will start honking if child is away from you for distance more than 5 meters.
• Monitor
You can call watch from number you have assigned and listen to child's surroundings in microphone area, child will not know about it.
• Playing location history
Projection and playback animation child's movement history and routes on electronic map for 13 months.
• SOS button
Your child, in case danger, can press alarm button, watch will start ringing in circles until someone picks up phone, you are calm when child walks on street.
• Determine current location
Sending SMS commands to your watch will allow you to get GPS coordinates your child instantly on your phone.
Additionally:
Pedometer, Alarm clock, Text messages, Silent mode, Promotion baby hearts.
Characteristics
| | |
| --- | --- |
| Flashlight | Have |
| Operating system | MTK G |
| Language | Russian |
| Size | 34х35х17mm |
| Weight | 35g |
| GPS monitoring | Russian |
| Main chip | MTK 2503 |
| Processor | CPU Dual Core 1.2GHz |
| ROM/RAM | 32/128MB |
| GPS | MTK 6627 |
| Number channels | 20 |
| GPS accuracy | 5-15M |
| LBS accuracy | 100--1000M |
| Battery type | Li-Pol 3.7V |
| Battery, capacity | 400 mAh |
| Display | Color touch 240 x 240 * 1.54 LCD |
| G sensor | No |
| Speaker | 8 OHM 0.5 W |
| Moisture resistance | No |
| Microphone | Built-in high precision |
| Link | GSM, GPRS |
| SIM Port | micro SIM |
| Location | GPS+AGPS+LBS+WiFi |
| Port | Micro USB Port*1 |
| Buttons | Power on/off, SOS, Volume +/ - |
| Telephone communication | Have |
| Geofences | Have (option) |
| Hidden monitoring (wire) | Have |
| Бесплатный пакет мониторинга | Have |
| Камера | Have 2mp |
| Monitoring environment | Windows. Android, IOS |
Related Products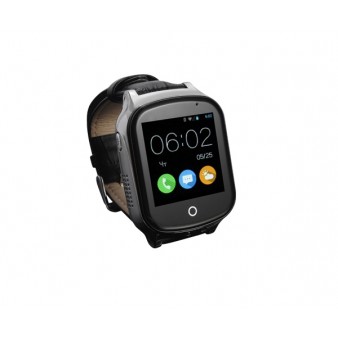 GoGPS M19
$89
Tags: Детские часы с GPS